CC Professional
CC Professional
SIMATIC WinCC Runtime Professional visualization software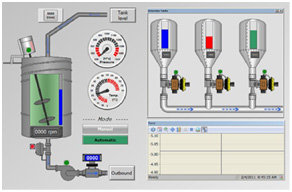 PC-based operator control and monitoring system for visualization and operator control of processes, production flows, machines and plants in all sectors – from the simple single-user station through to distributed multi-user systems and cross-location solutions with web clients. WinCC Runtime Professional is the information hub for corporation-wide vertical integration.
Industry-standard functions for signaling and acknowledging events, archiving of messages and measured values, logging of all process and configuration data, user administration, can be expanded flexibly with VB and C scripts
Basic package expandable by means of option packages
Also included are APIs for the Runtime to utilize the open programming interfaces
Integration of customer-specific ActiveX Controls created with WinCC ControlDevelopment
SIMATIC WinCC Runtime Professional is available as a software package with 128, 512, 2048, 4096, 8192, 65536 PowerTags. PowerTags are data points that are connected to controllers or other data sources via a WinCC Runtime Professional channel. Up to 32 alarms can be obtained from one data point. Moreover, internal tags without coupling are available for additional system performance. WinCC Runtime Professional also contains 500 archive tags. Additional archive licenses can be obtained for greater quantity structures.
SIMATIC WinCC Runtime Professional is designed for visualization and operation of processes, manufacturing cycles, machines and plants. With its powerful process interface, especially to the SIMATIC family, and the secure data logging, WinCC Runtime Professional enables solutions for the process control. The sector-neutral basic system enables universal usage in all automation applications. SIMATIC WinCC Runtime Professional can be used in combination with the following operator panels:
SIMATIC PCs:
SIMATIC Panel PC: HMI IPC677C,
SIMATIC Box PC: IPC627C, IPC827C
SIMATIC Rack PC: IPC547C, IPC647C, IPC847C
Standard PC